| home |
nForma™ is a comprehensive student assessment and reporting package for Primary and Secondary schools. It caters for teachers' needs in data collection, analysis and reporting, keeping teachers informed regarding students and their performance.
We have applied what we have learnt over the years as teachers and IT professionals to provide you with essential and effective tools. The application is designed to make the capturing and analysing of student test data easy, leaving more time for the classroom.
We recognise that understanding our customers is key to our success. We strive towards improving customer satisfaction through continuous and incremental improvements to both the products and services we provide. We believe that with our customer focus philosophy, together with our comprehensive products, we allow our customers to refocus on doing what they do best – Teaching our children.
Hosting Facility
We do the hard work for you! Your databases are securely hosted in a state of the art facility. No need to worry about doing your own backups or applying Service Packs. Just concentrate on using the program.
nReports
Teachers can work from home or school.
Teachers can see their progression in an instant.
Teachers can see past scores and comments as they write reports.
Administrators can set up the reports effectively and easily, with changes available to teachers immediately.
Principals can see teachers' progress and assessment data instantly.
Principals can edit teachers' assessment data easily at any time.
Principals can see how the whole school is progressing through the assessment process in an instant.
Data Entry Screen for students (option:1)
nRoll
Mark your daily attendance roll online or via the iPad App
Edit the roll using a daily or weekly view page
Numerous reports are available on students' attendance
Track students who have not brought a note
Produce DEEWR reports or yearly attendance data
Flexibility to define your own reason and communication type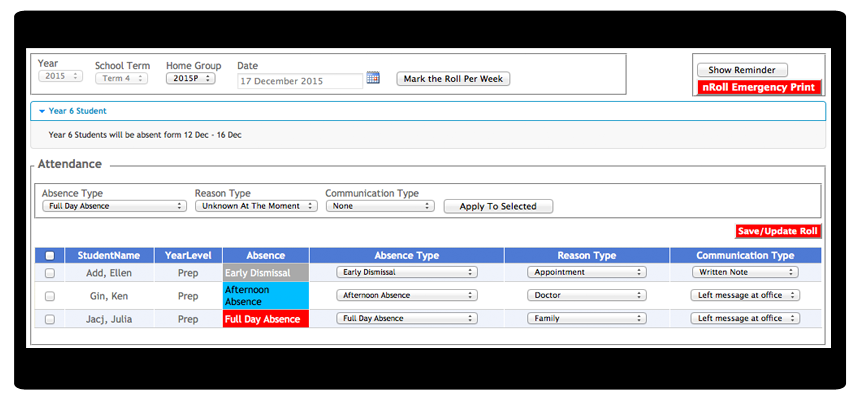 Mark the roll for a class (option:1)
nAid
Enter First Aid incidents
Track a student's First Aid records
Visual alerts for students with special medical conditions
View contact details for students
Print reports for parents
Keep track of insurance claims
Analyse where incidents occur on school grounds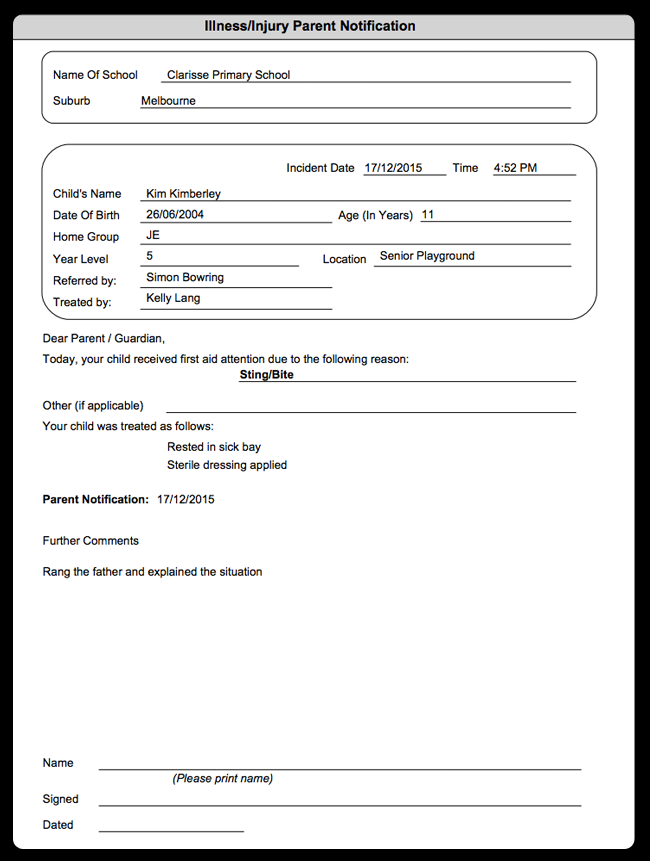 First Aid Report for Parents
nWellbeing
Track information that teachers have entered for students over time
Link documents or supplementary reports
Summarise all information in a grid view for any class
Record student welfare information such as:

School Support Programs
Agencies Involved
General Notes
Enter any details and attach documents for any student
nAssess
Enter and track assessment/testing data for all students
Create your own test cycles e.g. TEXT levels for each month
Record special programs, e.g. Reading Recovery
Traffic light indicators for students' performance. Schools can adopt their own colour scheme
Generate reports with or without colour alerts for all students showing their assessment history
Copy teacher assignments from one test cycle to another cycle
Quickly view progress of all assessors
Track whole school or an individual teacher's progress on assigned assessment tasks
Compliance
The nReports sub-system is approved and compliant with requirements of:
The Department of Education and Training (DE&T)
The Catholic Education Commission of Victoria
Need more information? Click here.
| home |